Merideth Evasew Extreme Terrain's hottest video host right now and she's been cranking out the tech advice and demos in each of Extreme Terrain's series of Throttle Out videos. And they've just released another great episode as part of Extreme Terrain's monthly YouTube video series. In this month's edition of XT's Throttle Out, Mer grabs the keys to a very lucky XT customer's JLU for some premium upgrades.Be sure to watch this month's Throttle Out from Extreme Terrain where form and function come together to create one bad-ass Jeep. https://www.extremeterrain.com/throttleout-march-2020-2.html
This Week In Jeep: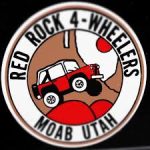 Easter Jeep Safari 2020 – CANCELLED
Utah has just had the WORST time with things lately. First it was news a couple weeks ago that the Easter Jeep Safari, easily one of the largest Jeep events on the planet, had taken measures to avoid the spread of the Coronavirus by shutting down the vendor show. Easily one of the bigger draws for this event, as manufacturers usually have some of their best rigs on display, and are showcasing the newest gear for the Jeep world. Jeep always brings out a couple concept rigs, and there's always enough Jeep eye candy around to satisfy even the thirstiest of enthusiasts. Despite this, some vendors were a little more gung-ho, and weren't about to let this get in the way of getting involved with the masses of Jeepers that flood MOAB Utah for this event every year. And I gotta give them credit too. Companies like Metal Cloak, who I have always had a lot of respect for, were going to set up shop right there on the side of the road leading into town if that's what they had to do to maintain a presence at the event and give the fans what they're looking for.  Local businesses, and the companies involved with the event were willing to take extra measures, even willing to donate supplies and whatever else was needed to mitigate the risk and keep the vendor show open. And the Jeepers, well, we're all die hard anyways, and most weren't going to let a little virus outbreak ruin their long laid plans. But the ruling passed, and the vendor show was no more. Then Salt Lake City got shaken to the core, literally, with a decent earthquake today measuring 5.7 on the richter scale. Granted Salt Lake is a good three hours from MOAB,but  it's still a bit of more bad news for the state already dealing with the pandemic. Unfortunately Murphy's law decided to pile it on a bit more. And on Tuesday March 17th (St. Patrick's Day) … a phrase was mentioned which I have had it up to here with hearing "Out of an abundance of caution" …and you already know anything following those six words isn't going to be good news. And it's true. This week it was announced that the 2020 Easter Jeep Safari will officially be cancelled. Completely. Not just the vendor show, but everything, down to the last guided trail tour. And they're all but shutting down the whole town to enforce it too. The cancellation comes the same day the Southeast Utah Health Department handed down a sweeping order that closed theaters, bars and other venues as well as limiting lodgings — from hotels, to even private and public campgrounds — to hosting only people who live and work in Moab. Their hopes are that by restricting the enjoyment of MOAB to only the residents of MOAB and shooing away any and all outsiders, that they are going to somehow completely mitigate the potential health impacts of the COVID-19 pandemic in Grand county. Uh-huh, good luck with that. I hope all the businesses you just signed a death warrant for will somehow find a way to survive this knife in the back and not vote your retarded ass out of office. For the first time in over 50 years, one of the worlds largest and longest running Jeep events is being canceled over a stupid virus. Red Rock 4-Wheelers said it would refund event fees to participants who had already paid to attend. I personally would like to say SCREW IT! … LETS STORM MOAB LIKE THOSE PEOPLE WERE ABOUT TO DO WITH AREA 51!  They can't stop, ticket, or sanitize us all damnit!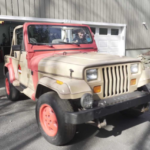 I think even Jeff Goldblum would be proud of this one.
Larry Kosilla is the founder of AMMO, a company out of NY who travels around the world to restore and detail priceless pieces of automotive history. Their youtube channel has over 1.2 million subscribers, and it's no surprise why. These guys plain and simply work magic. Restoring vehicles (sometimes priceless classic exotics) to like new condition after being abandoned, drowned, or otherwise left for dead in fields, forests and barns.  If you have ever been looking for the highest level of detailing advice, techniques, and products to use, then the video I'm about to tell you about is the only one you need to watch, and here's why. Imagine finding a Jeep, a completely abandoned Jeep, left for dead so long, that mold and mildew were literally growing on every surface. The Jeep was in such bad shape that I'm not sure even the most die hard Jeep fan would have given it a second look. Having worked in the automotive industry for over a decade, I can assure you that I've seen it all. Any and every level of disgusting you can imagine. I've not only seen it, I've had to work in it. But there's something undeniably special about rescuing an abandoned vehicle like this, one that's going to the scrap heap and rejuvenating it, breathing new life into it to drive or wheel once again. That's exactly what happens to the Jeep Wrangler in this video by AMMO NYC.  At the beginning, the derelict Jeep is sitting in a junkyard, and by the end, the rig is a beautiful Jurassic Park tribute vehicle that's going to auction. The custom-painted "Headake" on the rear fender and "C.W" on the doors are a nod of the cap to a former owner who had these painted on the rig previously. However, something happened to cause this vehicle to sit long enough for things to start growing out of the paint. The video largely focuses on cleaning the Jeep to look new again, and trust me, there is a massive amount of Jeep detailing tips that even impressed me. The process they used to bring this jeep back to life is very well detailed in this video. So if you are doing a restoration of your own, this video will be one to add to your must watch list. The video never shows the Jeep running, and after sitting so long, I would imagine it is going to need a fair amount of mechanical makeover too. But who knows, maybe some new fluids and a thorough tune-up might just be enough to bring that venerable 4.0L back to life. https://www.youtube.com/watch?time_continue=1&v=SO3eH-bYtEc&feature=emb_logo
Tech Talk With Jeep Talk: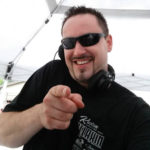 Suspension Types (Spring) Comparison – Part II
In the last episode, we started our multi-part series in spring comparisons. Focusing more on the differences between the different kinds of springs found under different kinds of Jeeps, and less on what we think is good or performs the best. Each spring type has its own unique characteristics, and it's those differences that we'll be focusing on. Last week we took a look back in time to where it all started with the leaf spring. From the history, to where they are today we covered every facet of the leaf spring. In this episode, we're going to look at what has easily become the most popular form of suspension spring in the modern Jeep world. The coil spring.  There were rumors that clear back in the 40's Jeep did a design study on the coil spring design but nothing allegedly came of it. Well, not until 1984 anyways when we saw them under the front end of the XJ Cherokee's. The coil spring actually dates back to 1906 in automotive use, but that doesn't apply specifically to Jeeps. In 1997 though, the Wrangler got its first set of coils. Jeep's first fully coil sprung vehicle, and it pretty much set the bar for two main reasons. Coil springs are nothing more than a coiled piece of metal bar stock. They are very inexpensive to the manufacturer. They are also easy to make in a wide variety of ways, whether it's a variable or constant rate designs. So they work, they're cheap, they weigh less, and they take up less room.  So yea, suffice it to say, it's not going to be anytime soon that we see Jeep steer away from a coil spring design off the factory floor. Coil springs are usually pretty easy to replace if you know what you're doing too, making them more friendly for the backyard mechanic to do maintenance or swap them out entirely. You might need a spring compressor tool in some cases, but on many Jeeps, if you fully unload the suspension and let it droop enough, the coil springs will fall right out on their own. So swapping a coil spring can be very easy compared to getting a leaf spring off. Because a coil spring can be made into almost any length, when it comes to a lift kit, you get more choices on the lift you might want to achieve. Lift kits with coil springs can range from a mere 1-inch to over 6.5 inches of lift and beyond. Again, springs are easily produced, in whatever length a company requires. With a coil spring, you can also use a "spacer" to gain lift. Meaning, you only need to install a simple donut above or below the coil springs, and you can get an extra inch or two of lift. This is just as simple as the lift blocks for leaf springs we talked about in the last episode, but far safer and a lot easier to install in most cases. One thing about coil springs is they are a single item, with no moving parts, so there is no real maintenance to them. Once installed, you can pretty much leave them alone. Coil springs are not invincible though. Just like leaf springs, coil springs can get weak over time and sag too.
If you've been around enough Jeeps for long enough, you know all too well about the Jeep rear spring sag. Coil springs can also develop cracks, or even break. But that usually requires a ton of hard abuse on very old springs. In all the years I've wheeled and the countless rigs I've been with, out on the trails, I've never seen a coil spring break. I cannot say the same thing for leaf springs. All coil springs are not created equal either. You could have a half dozen different coil springs from different manufacturers and they would all be unique in some way or another. Whether it's the diameter of the coil, how it was wound, how many windings or coils there are in the spring, and the overall spring rate. There are several factors to look at when choosing your springs and the same springs may not work for two different people. Here's what I mean by that. On my last trip to the Rubicon, there were two TJ's in the group that had metal cloak lifts. Their suspension systems were nearly identical and they were both running Metal Cloaks progressive rate springs. One guy didn't have a problem the entire trip, and the other said he was fighting to keep his lines the entire time. He said the Jeep felt like it was trying to unload itself anytime he got into a heavy off camber situation. If you ever hear the term spring unloading, it refers to the weight transfer a vehicle goes through as it gets off camber and the suspension cycles. The vehicle's center of gravity shifts, and there is a feeling like one end or corner of the Jeep wants to catapult itself over or under the Jeep. This isn't something that happens to every Jeeper, and at the end of the trip he felt like it could have been other factors, but he eventually swapped those progressive rate springs for standard lift springs regardless. Again, not all coil springs are created equal, and some springs are just plain and simply going to provide a softer ride, and others will be harder. Harder springs generally won't suffer from spring fatigue and sag as fast as softer riding springs will …but you pay for this with a harsh ride quality. Not that our Jeeps are meant to drive like a Cadillac, but still. Softer springs will generally be a little more forgiving offroad too, but won't hold up against the kinds of high speed deflection found when wheeling out on sand or in desert racing forcing the shocks to work harder than they were designed. The kind of ride you want, and the kind of wheeling that you do are the two main factors in choosing a coil spring.  So sit down and do some research before making your next spring purchase. And note that much of the finer technical specifications for springs like spring rate won't be found online for every manufacturer, so you may have to make some calls to get the numbers you need to make the necessary comparisons to get the right springs under your Jeep. Now some of you may be thinking, ok this is where this segment comes to an end. But we're not quite done with springs for Jeeps yet, and we'll be getting into one the highest performing most expensive options for a Jeep spring yet, but you'll have to wait till next week for that.
Newbie Nuggets: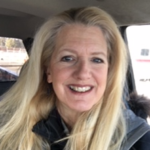 In light of this virus that seems to be dictating our every move these days I thought some laughter might be in order. I came up with a list of things you can do in your jeep – and I'm going to try to keep it clean Tony…. The mandate says we need to limit our contact with other humans and stay at least 6 feet away – it's called Social Distancing – Hey Josh you need to add this new phrase to the glossary of terms on our website.
 Social distancing in a Jeep – at a glance:
1)  Driving by yourself – no chance of spreading the virus
2)  When driving with a group on the trails, place the jeeps at least 6 feet apart from each other.
3)  If your buddy gets stuck you can just wave at him from inside your jeep and laugh – sorry dude, I can't get within 6 feet of you
4)  Don't park too close to another jeep – the virus might rub off to your jeep
5)  After your run, use a drive through car wash and ask for the Lysol treatment to clean-up
6)  If your jeep is lifted high enough you can hide a lot of supplies (like TP) – just don't tell anyone – our jeeps can't outrun most other vehicles.
7)  Waving at other jeeps is OK, because there is no physical contact
 And here are some other fun things to keep in mind that your jeep can be used for to help you through all this madness right now;
 1)  Drive to the nearest forest/desert, etc., and go jeepin' (bring TP). There is no one else around –perfect for alone time
2)  Jeepin with your buddy in his/her own jeep IS social distancing. Everyone drives their own jeep!
3)  Go play in the snow, or ice, or water or ?? Is your area snowing like mine is in So. Calif. right now or maybe it's raining cats & dogs where you are? Have you always wanted to try Jeepin' in rough weather – well what are you waiting for? You are not at work so go do it!!
4)  Play crossword puzzles (sorry, that's a puzzle on paper for you younger listeners) in your jeep or a game on your phone.
5)  Drive to a great view location on a trail and watch a movie from your new two din LED screen. Crank up the sound, take the top off and roll down all the windows for that perfect experience
6)  Check out our Glossary of terms on the website and brush up on jeep terminology – Your jeep will thank you later
7)  Create a well ventilated virus–free zone by taking your top off and rolling your windows down
8)  Take a nap in your jeep – are the kids or wife (or husband) driving you nuts, slip out of the house and take a nap. Keep the windows up and the doors locked so they can't get in.
9)  Proven fact that jeepin' cures all things like depression, the blues, being bored and headaches. Ok maybe not all things but it does cure some things.
 Josh, Tony or Tammy do you have any other ideas you would add?
And now it's time for a first  jeep experience… This week I asked my husband, Bill, to share his story…. He has been off-roading most of his life and I couldn't wait to share his first jeep experience. He was with his mom's jeep club out here in So. Cal called the Dirt Devils and they were following the group up a wash and it eventually narrowed to the point where they had to exit. He thought they were stuck and would need to turn around when the leader made a sharp right turn and scaled straight up a 10 foot high flat rock wall at about a 45 degree angle and he just sat there, mouth open and said to himself "crap, I HAVE to do that?"  So he turned the wheel, put the tires on the rock and just drove right up. He got to the top and looked at his mom in the passenger seat who was just as astonished and they both started laughing. It was a pivotal moment in his jeeping experience.
Obviously it left quite an impression because 22 years later he can still remember every detail down to the color of the granite face they drove up. After that experience, he has always said to himself, "why not, if someone else can do it, I can do it too". And I can attest to that as we traverse black diamond trails now….. Now it's a matter of what it will cost to buy the right equipment to be capable OR how much the repair will cost.
Thanks for a great story Bill and sharing your first experience. I know how special that time was with your mom from all the stories you have shared. Next week we will continue sharing newbie ideas and in the meantime, you can view some great videos on our YouTube channel Jeep 4-1-1 (https://www.youtube.com/user/backcountrydriver) with lots of tips, tricks, & techniques. The website info is in the show notes.
Interview with:
Tony recently did an impromptu call in show on Facebook Live.  We had a few calls and here are Laura and FM Jeeper.  They had some interesting things to say about how the COVID-ID virus is affecting them.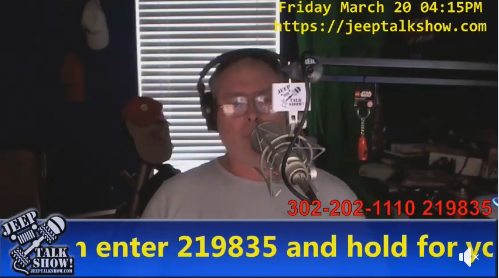 Must Have Stuff for your Jeep: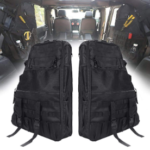 SUPAREE Roll Bar Storage Bag for 1997-2017 Jeep Wranglers 4-Door JK TJ LJ Only (will not fit 2-door models)$63.99 & FREE Shipping    https://amzn.to/2vExHBc
LARGE STORAGE CAPACITY: The main pocket is large enough to fit big bulky items typically found in recovery kits like snatch blocks, tree savers, tow straps and more. The main compartment also has a partition enabling you to separate the main compartment into two different storage areas. Each bag has several pockets, elastic loops, rings, and  mesh pouches that will fit all sorts of items thus greatly expanding your Jeep's storage. HIGH QUALITY MATERIAL:Made of premium waterproof 600D Oxford cloth, some of the highest quality textile available for this type of storage system, making the bags both sturdy, durable, wearproof, and washable too! EASY TO INSTALL: No tools required, these mount to your roll bar using adjustable straps. Not only can these be installed IN the Jeep, you can use the built in carry handle and take these roll bar storage bags with you into the campground, or on a hike, or into the house each night for security when the top is off. PACKAGE INCLUDES: 2 PCS Roll Cage Multi-Pockets Storage Bags. Individual Bag Size: 23.7*19.1*4.6 inch. 1 year warranty
Campfire Side Chat:
Along with the usual hosts Tony, Josh, and Wendy, Travis, Bill, Sean joined in via a Zoom conference.
Jeep Weather: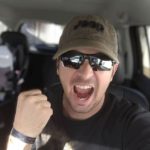 Howdy Jeeper, Mitch here, today is Friday 20th of March 2020, and it's time for your weekend Going Topless-Jeep Weather Report.  Most of the North America, and the world for that matter, is going into quarantine protocols and social distancing. Which is very contrary to how us Jeepers operate, since off-roading is always safer and more fun in pairs to groups, we just cannot enjoy the backwoods like we use to. This doesn't mean to not take that top off and cruise with your family down some country roads in the light of our star, just be smart and safe out there. For those of us with most of life locked down, this week's weather report will be different. I'm going to suggest a few YouTubers that I follow in which you can live vicariously through their past adventures. The first is TrailRecon, hosted by a guest we've had on this show a few times. Brad, his son, and lots of buddies go on adventures throughout the western US. He features trail 101, radios, equipment, and just well edited and beautifully filmed scenery in his adventures. Next go check out Brittany and Kevin over at Lite Brite. Driving all over the country with their Wrangler the "Stepchild" and building a Gladiator the "Foster Child", they explore, meet, and off road with Jeepers everywhere they go. High energy couple with loads of adventures. Lastly, Check out Ben, aka JK Gear and Gadgets. He's got lots of Jeeps in which he's constantly tinkering with. Guy got lucky last year, and road tripped out to SEMA with a bunch of awesome Jeep guys. If you like a real regular guy, like us, just being awesome at the Jeep Life then check out Ben. All these Jeepers are just honest, personable, hardworking Jeep fans, and you truly feel like part of their crews and adventures with their great production quality. I have links to all these guys in my show notes on JeepTalkShow.com, episode 429. Now, don't forget to use the #JeepTalkShow on social media, also don't forget to tag @JeepTalkShow and me, for us to see those Jeeping Topless pictures. If you have any suggestions or want to know YOUR local weather in an upcoming episode. Then find me on Instagram @jeep_out_west or go to JeepTalkShow.com/contact in order to find all the ways to get a message to me. I'm Mitch and its always great weekend to Go Topless if you're brave enough! Just Go Topless responsibly.
Wheeling Where
:
Jeep Beach!
April 20th – 26th
Daytona Beach, Fl.
More Info: https://www.jeepbeach.com/ https://www.facebook.com/events/571081293319608/
Shakedown Run
May 2nd
Iron Range Offroad in Gilbert, Minnesota
More Info: Info: https://ironrangeoffroad.com/
Links Mentioned in Episode 429:
This Week In Jeep: Junk Yard Jeep Rescue Video from AMMO NYC:
https://www.youtube.com/watch?time_continue=1&v=SO3eH-bYtEc&feature=emb_logo
Extreme Terrain's Throttle Out JLU Build:
https://www.extremeterrain.com/throttleout-march-2020-2.html
Jeep 4-1-1 YouTube Channel:
https://www.youtube.com/user/backcountrydriver
Must Have Stuff Pick of The Week For Your Jeep:
https://amzn.to/2vExHBc