This episode of the Jeep talk show is brought to you in part by Quadratec.com. Quadratec has delivered quality products and expert advice to Jeep enthusiasts around the world for more than 30 years. All the top brands at the best prices. Visit Quadratec.com to satisfy your Jeep needs today! Quadratec was founded over 30 years ago to provide Jeep enthusiasts with the best products at the best prices, and today it is the world's largest independent retailer of Jeep parts and accessories. Whether you own a Willys, Wrangler, Cherokee or anything in between, Quadratec has what you need for whatever you drive. With more products than you'll find anywhere else at the best value, Quadratec is your number one resource for everything Jeep. Visit Quadratec.com today!
This Week In Jeep: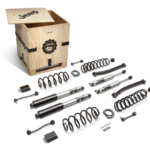 Got an Eco-diesel Jeep? Hows About a Suspension Upgrade?
Ever since the debut of the JK line of Jeep Wranglers, there has been a factory line of official Jeep upgrades, mods and accessories that new Jeep owners can use to make their Jeep their own… AND make it more capable, all without voiding the factory warranty. This trend continued and expanded as the JK line aged and factory authorized modifications got more and more traction. Fast forward to this week, several months after the release of the JL, and JT Wrangler and Gladiator lines and the Eco-diesel options now have a vehicle specific factory upgrade. It's no secret that one of the easiest ways to make your Jeep more capable is to improve the performance of the suspension. Hard to do with a brand spanking new Jeep under a strict manufacturer's warranty. Seeing an immediate need for some love, Jeep just this week introduced two new, two-inch lift kits tuned specifically for both the Eco-diesel Wrangler and the Eco-diesel Gladiator.  Since the kits are official Jeep Performance Parts, their ability to manage each model's increased weight as well as offer higher ground clearance and more useful approach and departure angles has been approved to OEM standards. Compared to stock, the Mopar lift kits increase suspension articulation by a very noticeable 18 percent and feature aluminum-body Fox mono-tube shocks measuring 2.5 inches in diameter. By comparison, the factory shocks that come on the Jeep originally only measure two inches in diameter. That's a significant increase in shock absorption capabilities and the extra fluid capacity means less shock fade on those high speed runs or washboard roads. The lower front control arms are longer as you would expect with a tuned lift kit, and feature optimized caster settings as an added bonus. Another improvement in this kit over the stock form is that the new control arms have larger more heavy-duty bushings that apparently improve vehicle control and should improve longevity of the kit as a whole. All in all, the entirely bolt-on lift kit (Mopar says no drilling, cutting, or welding is required) includes four springs, four Fox shocks, front lower control arms, front and rear extended sway bar links, front and rear extended bump stops, the necessary fasteners and, of course, a Jeep Performance Parts badge. It all comes in a cool wooden crate you can reuse to store various nick-knacks or old Jeep parts in. Or take it apart and use as firewood in the event that your significant other sees how much you just spent on Jeep parts, and you are now living in the back yard with the dog cooking your own food over an open fire. Although the kit for the Gladiator isn't immediately available, FCA is claiming that orders for that kit will ship later this summer. The Wrangler Eco-diesel lift kit is now available for purchase, and will set you back just under the $1500 mark. If you are using this kit to stuff larger tires under your brand new Jeep or have already done so, be advised that Mopar is also offering a Custom Calibration option through its dealer network, for $125 that corrects speedometer and odometer readings when rolling on oversize tires measuring 33 inches and up. 
I'm Not Going To Talk About It….
You know I was GOING to talk about the latest details surrounding the Jeeper from Colorado who in a shockingly familiar situation as the one in California a number of weeks back, found himself on a highway that was being illegally blocked by a large mob of protesters. But in my coverage of the similar event in California a few weeks back, I apparently pissed off a great number of snowflake…i mean people. So you will NOT hear me this week talking about what happened to THIS particular Jeeper in Colorado as he attempted to flee from a mob of law breakers physically attacking his Jeep. I won't be talking about how his Jeep was not only attacked with baseball bats and rammed by a truck but was even fired at by one of the protesters who had a gun. I won't tell you that the Jeep is in more or less OK condition, as are the two occupants who were in the vehicle at the time. And I won't be talking about how neither man sustained any serious injuries, however…. I will tell you that two innocent bystanders were shot by the gun wielding cry baby from the crowd of law breakers.. But I'm sure to the listeners whose feelings were hurt by my hard stance a few back …. it is still somehow the Jeepers fault. Look, I don't EVER "WANT" to get political on this show, and honestly I do my very best to stay away from politically heavy topics. And in both these cases it's got absolutely nothing to do with politics, and everything to do with how a Jeeper just like you and me reacted to a very tense and dangerous situation that frankly any one of us could find ourselves in with the way things are right now in some cities. So if you find me pointing out the stupidity of people illegally throwing a temper tantrum in places they have zero right to be, and insisting they deserved any injury sustained by said idiotic activities as offensive as you claimed it was…. than by all means, go and tell the Jeeper whose rig now has several bullet holes in it that he was in the wrong for driving down the freeway because your feelings were hurt on the Jeep talk show.
Jeep Life: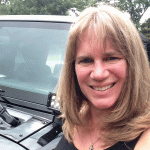 From JST Listener Joe. Hey, love you all, the show is awesome! Thanks for all the great content. Can you discuss the Jeep badge of honor trails sometime? I live in Scottsdale, AZ and I am the organizer of a local Jeep club (Scottsdale Family Jeepers). We do runs just about every Saturday, sometimes 2x per week. Jeep recently added a "badge of honor" trail here in AZ, it's the second trail that AZ has gotten. The puzzling part is, this trail is literally nothing more than a graded dirt road. No obstacles, no amazing scenery either. So how does Jeep select these trails and why would a boring 9 mile dirt road earn the designation of a badge of honor trail?? Thanks in advance and keep up the great work, I really want to make the fireside chat here one day too!!! Joe First off… what is the Jeep Badge of Honor?  Well it's an app that you download called the Jeep Badge of honor. Once downloaded you put in your info like name address Jeep make and model and vin number. There is a map of specific trails across US and one in Canada. So when you are at one of these trails you open the app and click on the trail and check in. then you run the trail and Jeep will mail you a badge. The reason it is called Jeep Badge of Honor is that Honor is the key word. Jeep is taking it on your Honor you truly ran the trail. There is no GPS capture of you running the trail nor do you need to upload any sort of map. The badges used to take a really really long time to get. They realized they had a problem and hired someone to fix that problem. Now you get your badges fast. Almost before you get off the trail. I know in the past two years they added a trail in Virginia Peters Mill Run. I ran that trail. It's an old mining road winding a mountain in VA. Nothing spectacular or anything super scenic. But I know some folks petitioned the Jeep Badge of Honor and they added the trail. There is a wide variety of trails from difficult to super easy. So I decided to reach out to Jeep to find out their criteria. Here is what they told me. "There aren't any specific criteria that we use to select a trail. We take into account many factors however such as number of users who have requested a trail, the trail location, difficulty (not always the most difficult trial gets selected), etc." So on the last episode I was on I said I would share my Lessons learned on the Rubicon Trail. There are five of them. This week I will share Lesson Number One! Exhaust trail damage is no joke. A while back when I was wheeling in Kingman Arizona or Moab I remember coming down hard on my exhaust pipe. I put a little dent in it. That little dent made the pipe just a tad smaller in circumference. I thought no big deal. Well fast forward to the Rubicon Trail. Again I came down on the exhaust pipe squeezing it together just a little bit more. During the trip my check engine light came on. Then if would go off. Then come on again. When we got back to Colorado we checked it with a code reader. It read misfire on cylinder 6. We cut off the damaged part of the exhaust pipe and the check engine light went away. UNTIL… I was eating my lunch of tacos in a fast food parking lot while idling my engine so I could have AC. This was in TX and if ou know anything about TX in the summer… Right Tony. AC is definitely needed. So while in I was here in Corpus Christie TX I got the guys at Sinister 4 x 4 to replace the spark plugs. They said it was a good thing I cut the pipe. If I hadn't I could of really messed up the heads. So for right now I am good but it would be a good idea to replace the injectors. Not absolutely necessary but a good idea. The issue is when I am in idle the valves are not open like they would be when I'm driving So for now I am not going to do to much idling. So if you do any trail damage to your exhaust pipe fix it immediately. Now I am researching replacing my exhaust system. Tony and josh I am sure you have something to say on all this.
Tech Talk With Jeep Talk: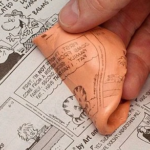 Fluid Leak Trail Repair Kit
If you've listened to the show for a number of years, then you may likely think that I have a library of kits that I pull off a bookshelf in the back of my jeep for any one particular trail fix. And to a certain extent it's true. I've got different kits for different kinds of repairs because I've learned the hard way, that having everything you need to do one particular type of repair in a single easy to grab container makes doing a trail repair to begin with, a whole lot easier, less time consuming, and with a lot less damage to the moral of you or the group. Look, why would you want to be digging around the bottom of a bucket, box or tool bag to find the one thing you're looking for to complete a repair? This is why all my electrical stuff is one kit. This is why all my tire repair stuff is in one kit. It's why I have a spill kit and a recovery kit and all these kits, each serve a very specific purpose and don't cross with each other at all. Why would I keep my tire plug punch tool with my electrical connectors and fuses? So it's time to do some organization with the stuff you take out on the trail with you and we're going to start with an easy one. Fluid leaks. Fluid leaks can happen or be caused by any number of factors from an errant rock on the trail, to neglect or even rust. Whether it's a hole inthe fuel tank, a separated diff cover, or a broken fuel or brake line, having the right stuff can make repairing any of these kinds of leaks a breeze. Here's what I carry in my kit and I'll explain why as I go along. First and foremost is going to be a good tube of RTV. If you deform your diff cover, or separate part of your oil pan or suddenly develop the mother of all valve cover leaks, then smearing a glob of RTV may be all that you need to staunch the flow of vital fluids and get you back down off the obstacle, trail, or maybe even be good enough to get you home. RTV can dry out over time if the tube is compromised or the cap doesn't seal good, so periodically check the condition of the contents to ensure you have a workable tube in your kit. Next up is going to be self sealing silicone tape. I carry a roll of this in my kit because this stuff can fix almost any leak on any kind of hose or tube. It selas to itself, usually cures to an unwrappable semi permanent barrier able to resist several hundred degrees of temperature and pressure. It won't seal an exhaust leak, but that's not the kind of leaks we're talking about here. If it's a power steering line, brake line, or even a radiator hose that is nearly split in two, you can fix it with a roll of self sealing silicone tape. Speaking of hoses or tubes, it's a good idea to carry a couple feet of a couple different diameters of hose. I like to have a section of ⅜" and ½" hose that will work for anything from repairing a vacuum line to fixing a section of fuel line to even fixing a busted brake line. Having a little hose, even if it's not the right kind could be the difference between you getting off the trail and spending the night there. Just be sure to get the thick wall or reinforced stuff so that it can work equally well as a fuel line, brake line or even transmission or vacuum line. And what good are hoses without hose clamps? I have an entire assortment of hose clamps that will make a hose repair that much more reliable. And you can't piece together a couple sections of hose without a few hose clamps so be sure to grab an assortment. You will of course need replacement fluids, and every Jeeper should have at least a quart of every fluid they rin to make sure that if you need to top off after a repair you won't be left high and dry so to speak. And there;s going to be one other thing I'm going to add to my kit soon and that's going to be something from the FLEXSEAL line of products. I really like the idea of the flex tape, a super adhesive watertight barrier that can instantly be put in place and adheres to just about anything and everything. I'm not sure of its ability to resist petroleum products like gas or oil, but if nothing else, it may be able to keep that back window together that just got blown out from that tree you got too close to. I don't know but I'm going to try it out on a couple things and get back to you. I have other things in the kit like gloves, zip ties (i have those things everywhere) and even electrical tape, because yes, that too can work to seal a hose leak in a pinch. Think about what you may put into your own fluid leak repair kit, and let us know if there's something you think I missed.  
Newbie Nuggets: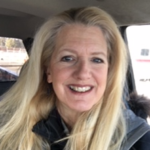 Jeep Badge of Honor
Thank you to Joe B from Arizona who reached out to the show and suggested a topic for Newbie Nuggets. Joe asked about the Jeep Badge of Honor program.  Jeep started the Badge of Honor program in 2013 with 49 trails in 17 states rewarding jeep enthusiasts who complete various off-road trails as they conquer them by putting their vehicles to the test and have fun while they are at it. The trails range from easy to demanding to very challenging and everything in between. The Badge of Honor program is a fun way to earn unique trail designated badges for your vehicle and tackle some awesome trails. The program is limited to registered jeep owners by submitting your 17-digit VIN # when you register. Registration is simple and you will also need to download the app (Apple & Android supported) on your phone. You can own any type of jeep to participate, however, most of the trails will need a fairly well set-up jeep for off-roading to accomplish. This program is free from Jeep and is an honor system. The trails are located throughout the US with some states having more than one. Utah has the most with 10 trails, California and Colorado tie with 6 and all others have 4 or less with most having only one trial. The trails are each rated for difficulty from rugged terrain to steep climbs, etc. They rate the trails with a number designation followed by a description – for example: John Bull, in So Calif is rated 7-9 (demanding to very challenging). The Rubicon trail in Northern California is the only trail with a #10 designation. It is listed as 1-10 (easy to most difficult). All others are a 9 or less. For those of us on the show, our home states have some of the hardest Badge of Honor trails: Colorado has 6 trails, California has six (three of which are in Big Bear and we have all three of those badges), Oregon has two trails and Texas has two. Now for Joe in Arizona, there are two trails. You can find out if your state has trails in a link I list in the show notes. The app gives you directions, locations, information and trial highlights along with trail difficulty ratings. Once you have the app on your phone and you arrive at the trailhead; you simply log in, select the trail you are starting and continue on the trail. The GPS on your phone tracks your progress and Jeep does the rest. A few weeks later you receive a badge in the mail.. There has been some talk as to where to place the badges you earn. Most of us place them on the front fender just in front of the door. They come with self-adhesive and attach easily. I have seen these attached to the back/side windows, tailgates and doors.  Wherever you display them, do it with Honor, These trails are tough!! On the jeep badge of honor website you can sign-up for the community newsletter and connect with other Badge of Honor members. You can also earn trail points for checking-in at the trailhead, sharing photos, and commenting on the trails. Jeep also welcomes trail suggestions to the program. In July 2019, Jeep Badge of Honor announced a redesign of the badges. If you had older badges Jeep was offering to replace them, however, that offer may not be available today. Check out the website for details.  And this past June, Jeep announced it was adding 7 additional trails for a total of 56 trails in 21 states now. You can google the Jeep Badge of Honor and find all kinds of information. I have several links in the show notes on resources I found to be helpful. And there are some photos of what the badges look like. The best way to start is to download the app, find a trail or destination and start earning those badges. And don't be shy, show us the pix of your badges on jeep talk show Facebook page Jeep Badge Of Honor: https://www.jeep.com/badge-of-honor.html Find your state Badge of Honor trails: https://www.cjponyparts.com/resources/jeep-badge-of-honor 7 new trails link:  https://www.fourwheeler.com/news/jeep-adds-new-badge-of-honor-trails/ Complete list of all trails: https://www.trailsoffroad.com/blog/the-complete-list-of-jeep-badge-of-honor-trails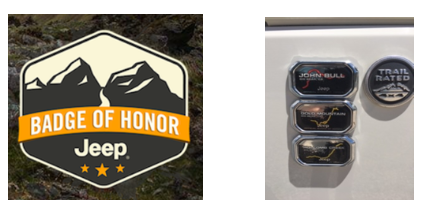 Interview with: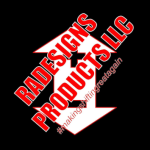 Rory, Owner of RADesigns Products is best know for shifters and shift controllers since 2008. Need, Design, Build, Use is his motto. When not being able to find the right accessory for his or others builds he designs his own and then offers it for sale. This is how the product line expands and he keeps Making Shifting Great Again. Currently the proud owner of 4 Jeep, 2 stock XJ's, one project V8 XJ and a 1972 Jeep Commando. See all of the products at www.radesignsproducts.com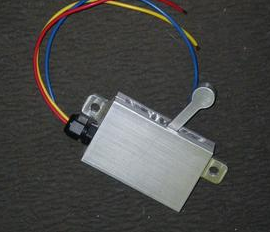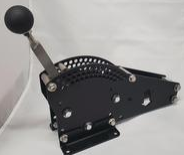 Must Have Stuff: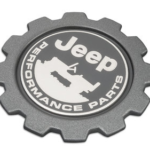 Official Jeep Brand Performance Parts Badge – $26.99 I bet the words "Official Jeep Performance Parts Badge" had your ears perking up earlier too. And since you already know that I was likely going to be fielding a hundred emails next week about this badge I mentioned on the show, I thought I'd get ahead of it early, and make sure that if you want one of these badges, and you don't want to buy a $1500 lift kit to get one, that we'd have the means to hook you up. And our friends at Quadratec are stepping in to help. Premium forged aluminum logo badge measures 3" in diameter and features the iconic Jeep logo and a profile of a gear that will instantly get recognized. Automotive trim quality adhesive backing ensures this emblem will stay put wherever you decide to stick it. And before you say it, NO…the pair of chrome ones you can get off of WISH for five bucks are NOT the same thing.  Not even close. https://www.quadratec.com/p/mopar/jeep-performance-parts-badge
Reviews: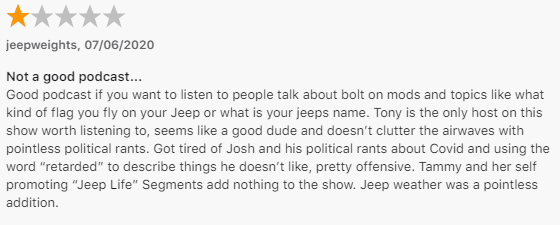 Campfire Side Chat:
"It's too hot out" / "there's not enough light" / "It's raining out" "Why do I have to do it – YOUR the one who broke it?!?"  We all have a list of things that we WANT to do to our Jeep and most of us probably have a list of things we NEED to do to our Jeep… So what have you been putting off fixing/upgrading on YOUR Jeep?
We had a great time with these folks that joined in the campfire by using our Zoom conference call!  Watch our Facebook page, and/or subscribe to our Newsletter to receive information on how to join every week!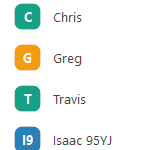 Links Mentioned in this Episode
http://www.radesignsproducts.com/
https://www.facebook.com/shifting.r.us/
https://www.quadratec.com/p/mopar/jeep-performance-parts-badge